Rush Wins Big at the 2012 Classic Rock Awards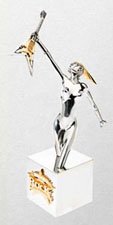 The 2012 Classic Rock Awards, sponsored by both Classic Rock Magazine and Orange Amplification, were held last night at the Roundhouse in London, England. Rush were only nominated in two categories among the many for the awards - both the Band of the Year as well as the Album of the Year for Clockwork Angels - and they won both categories. Here's what CR had to say about Rush winning the Band of the Year category:

It's been another triumphant year for Canada's favourite prog rock outfit. They've finally been nominated for the Rock And Roll Hall Of Fame – an accolade they insist is for their fans rather than themselves – and they've won new fans with latest album Clockwork Angels. Plus, last week Alex Lifeson was named the greatest ever Canadian guitarist. Things have been on the up-and-up ever since documentary movie Beyond The Lighted Stage showed a softer side to the guys. They cemented the concept with a hilarious appearance in buddy movie I Love You Man, where they even joked about seeing women in the concert crowd.

As Rush began the third leg of the 2012 Clockwork Angels tour in Seattle, WA last night they, obviously, were not in attendance for the award ceremony. They did, however, Tweet the following message:

Sorry we couldn't be there, playing in Seattle but thanks to @ClassicRockMag readers for the Album of the Year and Band of the Year awards!

According to reports, James Dean Bradfield of the Manic Street Preachers accepted the awards on behalf of the band.

For a complete list of all categories and winners, click HERE.

Thanks to GeddyWannaBe for passing along the news.
---