Rush to Film Phoenix & Dallas Shows on Clockwork Angels Tour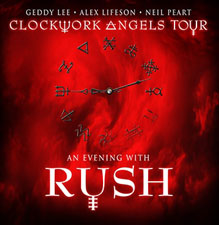 Rush have just announced that they plan on filming/recording the upcoming Phoenix, AZ and Dallas, TX shows for an upcoming DVD set for release in 2013.

The actual dates/venues for both shows are:

November 25, 2012 - US Airways Center - Phoenix, Arizona (Buy Tickets)
November 28, 2012 - American Airlines Center - Dallas, Texas (Buy Tickets)

As most fans know, this will be the second time Rush films a concert in the United States; the first time occurring on April 15th of 2011 for the Time Machine Tour CD/DVD release.

The fact that Rush plan on filming two consecutive nights suggests that they'll include all the songs from their rotating set list from this tour. Also, while the official announcement only refers to a DVD, it's more than likely that an accompanying live CD will also be released, as has been the case with every tour DVD the band has released over the past decade.

We'll have more information as it becomes available.

Thanks to Eric from Power Windows for passing along the news.

---
Related News Stories
[Rush Clockwork Angels Tour Update: Second Leg Complete - November 4th, 2012]
[Rush Returns Home - Rocks Out Toronto - October 17th, 2012]
[Rush's Clockwork Angels Tour Resumes Tonight in Bridgeport, CT - October 10th, 2012]
[Rush Clockwork Angels Tour Update: First Leg Complete - October 1st, 2012]
[Alex Lifeson Talks About Clockwork Angels Set List Changes - September 17th, 2012]
[Rush Add San Diego Date to the Clockwork Angels Tour - September 10th, 2012]
[Rush's Clockwork Angels Tour Begins - Set List Revealed LIVE - September 7th, 2012]
[Clockwork Angels Tour - Teaser Photo Gallery - September 4th, 2012]
[Rush Bringing String Ensemble on Clockwork Angels Tour - June 18th, 2012]
[Rush Add Three New European Dates - Will Perform at the Sweden Rock Festival - May 22nd, 2012]
[Rush Add Second Toronto Show - Release European Fan Pre-Sale Information - May 15th, 2012]
[Rush Announce Initial 2013 European Tour Dates - May 14th, 2012]
[Rush Announces Clockwork Angels Tour Pre-Sale Details - Begins April 23rd - April 21st, 2012]
[Rush Clockwork Angels Concert Pre-Sale Information Now Available - April 19th, 2012]
[Rush Release Official Clockwork Angels Tour Information and Dates - April 19th, 2012]
[Clockwork Angels Tour Dates Begin to Surface - April 18th, 2012]

---