Rush Clockwork Angels Tour DVD Coming in September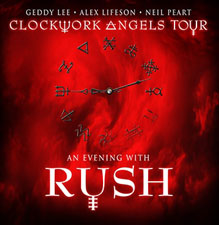 Back in January, we reported - and then later debunked - the news indicating that Rush's Clockwork Angels Concert film was to be released in May of this year; right in the middle of the band's 2013 leg of their ongoing Clockwork Angels tour.

Today, Eric from Power Windows is indicating that the release date is now tentatively scheduled for a September 24th release date.

Rush filmed two consecutive tour dates last year in preparation for the Live DVD - November 25th in Phoenix and November 28th in Dallas. Based on reports, the Dallas show is expected to be the primary show for the DVD while the Phoenix show will be used for the inclusion of other songs not played in Dallas and any additional filler and/or corrections needed.

At this point, until an official announcement comes out of the Rush camp, the September 24th release date, while seems reasonable, should be treated as rumor. We'll have more news as it becomes available.

Thanks, of course, go out to Eric for the news.
---
Related News Stories
[Rush Clockwork Angels Tour DVD Not Coming May 21st - January 16th, 2013]
[Rush Clockwork Angels Tour DVD Coming May 21st - January 11th, 2013]
---