Richard Chycki Update on Moving Pictures 5.1 - Initial Reviews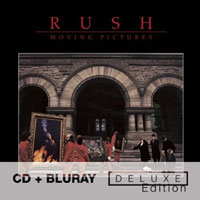 Rush Sound Engineer Richard Chycki just updated his blog with some initial reviews of the 30th Anniversary Deluxe Edition of Moving Pictures:

So I guess the review pre-release copies of Rush?s Blu-Ray Moving Pictures 5.1 remix/remaster are making the rounds. It?s so exciting to get feedback from people enjoying something that I had so much fun working on. With permission, I?m sharing pieces of a recent email here from a guy that listens to A LOT of 5.1:

... "First impressions: W-O-W. It?s going to be really, really HARD to ever listen to this album "only" in stereo ever again! THIS is what surround was built for, so to speak ... Living inside it and loving it! ... Everyone needs to know how GREAT this 5.1 mix is!"

... "One of my favorite albums of all time is now better than ever. I look forward to listening to it again and again and getting more out of it each time I do ... Each song has its own individual sense of space ... It's such a rewarding listening experience." - Mike Mettler - Editor-in-Chief, Sound & Vision Magazine.

Rich also indicates that the filming of the April 15th show in Cleveland "...is well underway, almost on autopilot..."

Pre-Ordering links for Moving Pictures 5.1 via Amazon are below:

Moving Pictures 5.1 - CD/DVD

Moving Pictures 5.1 - CD/BD

Thanks to Ed from RushIsABand for passing along the news.