The 2012 Rush Wall Calendar - Now Available for Pre-Order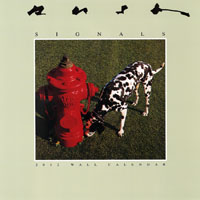 Back in 2004, the very first Rush Wall Calendar was released, featuring a nice collection of studio and live photos of the band. Each year since, Rush has released a new wall calendar and 2012 is no different.

Amazon is now accepting pre-orders for the Signals inspired 2012 Wall Calendar. As was the case with the 2011 Wall Calendar, which focused on the 30th anniversary of Moving Pictures, the 2012 edition celebrates the 30th anniversary of Signals:

Marking the 30th Anniversary of their Signals album, this 2012 16 month wall calendar features images from that period and celebrates the longevity and constant ingenuity of one of the most successful bands in rock and roll, Rush.

The release date is set for September 1st, 2011. To see all the previous wall calendars, please access the Image Database section of the site.

Thanks to Ed from RushIsABand for passing along the news.