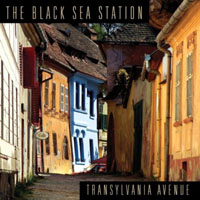 The Black Sea Station's new album Transylvania Avenue includes two guest appearances by Geddy Lee. According to Rounder Records, the label distributing the album, Transylvania Avenue is a collection of traditional and original Klezmer and Rumanian music. Another Rush connections stems from the fact that the album was produced by Ben Mink; the longtime Rush friend and collaborator.

From Rounder's website:

This collection of traditional and original melodies comes from a band of musicians that straddle the North American continent and the traditions of Klezmer and Rumanian music. On this, their debut CD, The Black Sea Station displays a love and respect for their Eastern European roots. They bring this world to life in various scenes - a wedding, an intimate café, village streets, quiet moments and celebrations - all reflecting on and celebrating the rich history and culture of their heritage.

Geddy makes an appearance on the track When I Close My Eyes where he plays the electric bass guitar. He also lends his vocals to the track March of the Shikker.

The album is currently available at both Amazon as well as iTunes.

Thanks to Ed from RushIsABand for sharing the news.