Alex Lifeson Talks Moving Pictures: Track-by-Track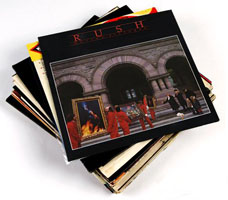 MusicRadar has published an article titled Alex Lifeson Talks Moving Pictures: Track-by-Track where, as the title suggests, Alex Lifeson talks about each track on Rush's seminal classic.

From the article:

"It was a beautiful time," says guitarist Alex Lifeson, recalling the summer of 1980, when he and his Rush mates (singer-bassist Geddy Lee and drummer-lyricist Neil Peart) rented a house in Stony Lake, Ontario and wrote their eighth album, Moving Pictures, together. "We'd spend the weeks working, and on weekends we'd drive back to Toronto. Rehearsing, figuring out arrangements – everything just flowed. Electricity was in the air."

On the following pages, Alex Lifeson walks us through Moving Pictures track-by-track. "It's a very optimistic album," he says. "There's a brightness about it, which I think is why people respond to it so much. Playing it live every night is interesting – The Camera Eye, which we hadn't performed in a long time because it's pretty difficult, has now become one of our favorite songs. The bottom line is, we're very proud of Moving Pictures. Thirty years later, it still feels magical."

Alex provides some great insight into the making of each track. Definitely something not to be missed. Check out the entire article via this LINK.

Thanks to Eric from Power Windows for passing along the news.
---
Related News Stories
[
'Moving Pictures' Track by Track: Geddy Lee Breaks It Down - April 15th, 2011
]
[
'Moving Pictures' Re-Enters Billboard Top 200 Albums at #51 - April 14th, 2011
]
[
'Moving Pictures' 5.1 Liner Notes and Images Now Online - April 7th, 2011
]
[
'Moving Pictures' 30th Anniversary Deluxe Edition Released Today - April 5th, 2011
]
---