Rich Chycki Blog Update: News on Moving Pictures 5.1 and Rush Live in Cleveland DVD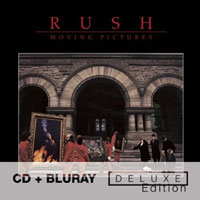 Rush's sound engineer Rich Chycki has updated his blog today with some information on the deluxe edition of Moving Pictures.

I received an email from Sound and Vision Mag editor Mike Mettler who sent me a preview of his upcoming review of Rush's Moving Pictures 5.1 Deluxe Edition in the Summer 2011 issue of the magazine. With his kind permission, I've posted his review below:

Rush
Moving Pictures — Deluxe Edition
(Mercury CD+Blu-ray)
Music 5 stars
Sound 5 stars


*** SOUND + VISION 2011 REFERENCE BLU-RAY *** Moving Pictures? More like Moving Mountains. This 1981 touchstone ably frames the crafty Canadian trio's shift from its progressive/hard-rock roots by positioning the new wave and reggae influences even more at the fore. It's a concise masterpiece that serves as the centerpiece of the ongoing 30th anniversary Time Machine tour, and it's the star of a brilliant DTS-HD Master Audio 5.1 surround-sound mix on Blu-ray courtesy of longtime collaborator Richard Chycki. Chycki and I first discussed the idea of MP in 5.1 over 2 years ago (plus we dissect it anew on our website), and his work here delivers beyond my dearest dreams. "Tom Sawyer" instantly swaths with its signature swirling Mini-Moog caressing all channels, and drummer Neil Peart's tom hits are massive and spread wide. Alex Lifeson's arpeggiated, sustaining guitar solo on "Limelight" dominates the soundstage while Geddy Lee's Taurus synth bass pedal triggers a punishingly impactful low end. The triangle that Peart taps out the Morse code pattern on during the corner-to-corner intro to "YYZ" is super-resonant, and the recurring breaking-glass effect lingers longer than the original mix before tapering off in the rears. Also deviating from the norm: Lee's occasionally omnichannel lead vocals and the ostinato reverb on Peart's kick drum throughout the burbling "Vital Signs." (And oh, that snare delay…)

Three of-era in-studio videos, liners, and more comprise a taut extras package. It all sets the stage to make my favorite album something I'll revisit in 5.1 in perpetuity. For those who think and feel, Pictures is perfect on Blu-ray. — MIKE METTLER

Rich always quickly mentions that "the 'Cleveland DVD' is also underway. More details to be had when there are some ..."

Check out the entire blog entry via this LINK.

Thanks to Rich and Ed from RushIsABand from sharing the news.
---
Related News Stories
[
Alex Lifeson Talks Moving Pictures: Track-by-Track - May 9th, 2011
]
[
'Moving Pictures' Track by Track: Geddy Lee Breaks It Down - April 15th, 2011
]
[
'Moving Pictures' Re-Enters Billboard Top 200 Albums at #51 - April 14th, 2011
]
[
'Moving Pictures' 5.1 Liner Notes and Images Now Online - April 7th, 2011
]
[
'Moving Pictures' 30th Anniversary Deluxe Edition Released Today - April 5th, 2011
]
---