Rush Resume their Time Machine Tour in Europe -- First Stop: Helsinki, Finland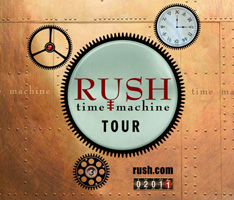 Rush is set to take the stage again tonight at the Hartwall Arena in Helsinki, Finland, beginning the European leg of their 2011 Time Machine tour. This marks the second time Rush has performed in Finland; the first time occurring on October 29, 2007 during the Snakes & Arrows Tour.

Following the show in Helsinki, Rush will play a dozen dates throughout May, including additional stops in Sweden, their first-ever stop in Ireland, Scotland, five shows in the UK, Holland and Germany.

The band will then take another week-long break before returning to the United States to close out the 2011 Time Machine Tour with 13 dates that will take place primarily across the western US. (Click HERE for all the dates).

For all of our European friends who are seeing Rush over the course of the next month, have fun and take some pictures!

For numerous pictures from the first leg of the tour, click HERE.
---
Related News Stories
[
Geddy Lee Speaks to the Irish Times - April 28th, 2011
]
[
Rush End the First Leg of the 2011 Time Machine Tour - Head Over to Europe for the Next Leg - April 23rd, 2011
]
[
Rush Rock Cleveland / New Concert DVD Information - April 16th, 2011
]
[
Exclusive Video: Rush Rock Madison Square Garden - April 12th, 2011
]
[
Rush at Hershey Park: How Sweet it Is - April 9th, 2011
]
[
Rush 2011 Time Machine Tour Begins Tonight - March 30th, 2011
]
---