Rush Finally Nominated for Induction into the Rock & Roll Hall of Fame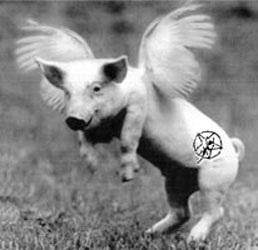 Update (1:00pm EST): Rush have posted a response to the nomination on their website:

"We are honored to be among the nominees for this year's Rock 'N Roll Hall of Fame. We are especially thrilled for the many, many dedicated RUSH fans to whom this nomination is so very important." – Geddy Lee, Alex Lifeson, Neil Peart

---

Look out the window and you might just see some pigs flying around. At long, LONG last, Rush has made the nomination list for the Rock and Roll Hall of Fame Class of 2013.

Both Billboard Magazine as well as The R&RHOF Facebook Page have confirmed the news.


Nominees for The Rock and Roll Hall of Fame Class of 2013 have been announced. Rush, Deep Purple, Heart, Procol Harum, The Paul Butterfield Blues Band and Randy Newman are among the names being submitted to voters for next year's induction honors.

Also on the list are Donna Summer, Chic, Joan Jett, Albert King, Kraftwerk, The Meters, N.W.A. and Public Enemy.

Other than Heart, Joan Jett and Chic, this is the first time any of the other artists has been nominated.

In order to be eligible for induction, an artist had to release their first record at least 25 years prior. The ballots will now be sent out to members of the music industry with the results announced in early December.

The 28th annual Rock and Roll Hall of Fame Induction Ceremony will be held in at the Nokia Theater in Los Angeles on April 18th, 2013.


Rush and Deep Purple? Yes, pigs truly must be flying today!

The R&RHOF created a video to introduce the nominees for 2013. The segment on Rush begins at the 5 minute 35 second mark:

---

---

There's also a page on the Rock & Roll Hall of Fame site where you can VOTE for which of the 2013 nominees you believe should be inducted. Currently, Rush is leading that poll.

Here's the list of all the nominees for the Class of 2013:

Rush
The Paul Butterfield Blues Band
Chic
Deep Purple
Heart
Joan Jett and the Blackhearts
Albert King
Kraftwerk
The Marvelettes
The Meters
Randy Newman
N.W.A
Procol Harum
Public Enemy
Donna Summer

Thanks to reader Ted Schoenberg for sending over the news.

---