Rush's Clockwork Angels Tour Resumes Tonight in Bridgeport, CT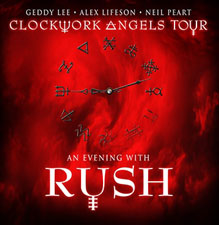 After a well-earned ten-day rest following the launch of their Clockwork Angels World Tour, Rush is set to take the stage once again tonight at the Webster Bank Arena in Bridgeport, Connecticut.

The band will be touring over the next three weeks before taking their next break. This leg will cover primarily the East Coast of the United States and Canada with stops Toronto, Montreal, Philadelphia, New York, Newark (NJ) and as far west as Cleveland.

As most fans know by now, the set list from the first leg of the tour changed nightly. There is some speculation that additional changes may creep into the set list on this latest leg. We'll continue to track the set list changes as they occur.

For those attending tonight's show in Bridgeport, and the future shows on this leg, have a great time! If anyone takes photos from the upcoming shows, we'd love to see them and post them on the site. To see some great photos from every show on the first leg, visit the Tour Dates page of the main site.

For a complete list of the tour dates and the current set list for the Clockwork Angels tour, please visit the site's Tour Info page.
---
Related News Stories
[Rush Clockwork Angels Tour Update: First Leg Complete - October 1st, 2012]
[Alex Lifeson Talks About Clockwork Angels Set List Changes - September 17th, 2012]
[Rush Add San Diego Date to the Clockwork Angels Tour - September 10th, 2012]
[Rush's Clockwork Angels Tour Begins - Set List Revealed LIVE - September 7th, 2012]
[Clockwork Angels Tour - Teaser Photo Gallery - September 4th, 2012]
[Rush Bringing String Ensemble on Clockwork Angels Tour - June 18th, 2012]
[Rush Add Three New European Dates - Will Perform at the Sweden Rock Festival - May 22nd, 2012]
[Rush Add Second Toronto Show - Release European Fan Pre-Sale Information - May 15th, 2012]
[Rush Announce Initial 2013 European Tour Dates - May 14th, 2012]
[Rush Announces Clockwork Angels Tour Pre-Sale Details - Begins April 23rd - April 21st, 2012]
[Rush Clockwork Angels Concert Pre-Sale Information Now Available - April 19th, 2012]
[Rush Release Official Clockwork Angels Tour Information and Dates - April 19th, 2012]
[Clockwork Angels Tour Dates Begin to Surface - April 18th, 2012]

---