Win Autographed Neil Peart Items in the Taking Center Stage Book Contest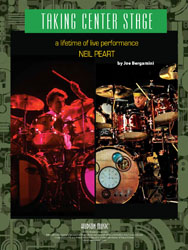 Update (10/16/2012): The contest is now over. Here's a list of the winners. Congratulations to all of them!

Sam Olson – Autographed Coffee Mug

Mark Gausel – Autograped Far & Away Novel

Doug Sadowski – Framed Autographed Statement from Taking Center Stage DVD

Rich Ranus – Autographed Anatomy of a Drum Solo Poster

Joseph Pesch – Autographed Anatomy of a Drum Solo Poster

Click HERE to view the answers to the trivia questions. Less than 20% of the entries answered all the questions correctly. Clearly, the "bass drum" question tripped a lot of people up as the correct answer was 2.

Thanks again for all those who participated - and to Joe Bergamini and Hudson Music for sponsoring this contest.


---

Last month, we let you know that Hudson Music was preparing to release the official companion book to last year's NEIL PEART: TAKING CENTER STAGE - a lifetime of live performance instructional DVD. The book, which has been available for sale at the merchandise tables during the Clockwork Angels tour, will be officially released on October 15th.

In celebration of the upcoming release, Hudson Music and Cygnus-X1.Net are sponsoring a contest where five lucky winners will receive various items autographed by Neil Peart himself!

The available Neil Peart autographed prizes include:


A "Bubbas" Coffee Mug.

Neil Peart's novel Far and Away: A Prize Every Time.

The closing statement Neil wrote for the Taking Center Stage DVD, printed on parchment paper and framed.

Two large posters of the Anatomy of a Drum Solo DVD cover.

For more information and to enter the contest, please click this LINK.

To purchase a copy of the Taking Center Stage book, please click HERE.

Good luck, everyone!

---
Related News Stories
[Taking Center Stage: A Lifetime of Live Performance Companion Book Coming Soon - September 14th, 2012]

---