Clockwork Angels Charting Update - Week #16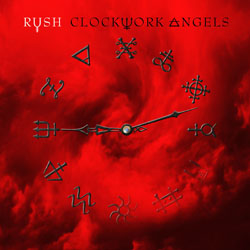 Week Sixteen had Clockwork Angels moving back up in the charts, albeit by only one spot. The album is now sitting in the #116 spot in Billboard's Top 200 Album List.

Here's how the album is performing across all Billboard Charts:

Top 200 Albums: #116 - up 1 spot from last week.

Top Rock Albums: #44 -- down 2 spots from last week.

Top Hard Rock Albums: #7 -- down 1 spot from last week.


At sixteen weeks, Clockwork Angels has surpassed Snakes & Arrows' charting life which fell out of the Top 200 in its sixteenth week; failing to ever re-enter the charts.

On a related note, The Wreckers held on to the #7 spot in the Mainstream Rock Charts.

Haven't purchased your copy of Clockwork Angels yet? If so, you can do so HERE.
---
Related News Stories
[Clockwork Angels Charting Update - Week #15 - September 21st, 2012]
[Clockwork Angels Charting Update - Week #14 - September 21st, 2012]
[Clockwork Angels Charting Update - Week #13 - September 13th, 2012]
[Clockwork Angels Charting Update - Week #12 - September 6th, 2012]
[Clockwork Angels Charting Update - Week #11 - August 30th, 2012]
[Clockwork Angels Charting Update - Week #9 - August 16th, 2012]
[Clockwork Angels Charting Update - Week #8 - Huge Jump Up! - August 9th, 2012]
[Clockwork Angels Charting Update - Week #7 - August 2nd, 2012]
[Clockwork Angels Charting Update - Week #6 - July 26th, 2012]
[Clockwork Angels Charting Update - Week #5 - July 19th, 2012]
[Clockwork Angels Charting Update - Week #4 - July 12th, 2012]
[Clockwork Angels Charting Update - Week #3 - July 5th, 2012]
[Clockwork Angels Charting Update - Week #2 - June 27th, 2012]
[Rush's Clockwork Angels Debuts at #2 on the Billboard Top 200 Album Chart - June 20th, 2012]
[Rush Release Clockwork Angels - To Rave Reviews - June 12th, 2012]
---