Neil Peart Featured in DW Drum's Edge Magazine - Article Now Online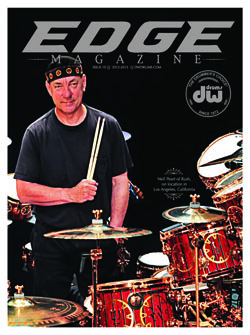 For numerous years, the makers of DW Drums have published an annual magazine called Edge. In their latest, tenth issue for 2012-2013, Neil Peart is featured on the cover of the magazine and also wrote an accompanying article titled Gearing Up For the Road; a commentary about Neil's preparations for Rush's Clockwork Angels tour.

From the article:

"...on June 25th I started my drum rehearsals at the Drum Channel studio with my tech, Lorne "Gump" Wheaton. Geddy once joked that I was the only musician he knew who "rehearsed to rehearse," but I like to be prepared - and as we'll see, I need the workout. Gump and I would have three-and-a-half weeks to work on the songs, smooth out any technological problems, and dream up some new solo ideas. This is my favorite part of the touring process because I begin the day at home with my family, then have a challenging and satisfying hard day's work, and end up at home cooking the family dinner and sleeping in my own bed. And it includes one of the world's best commutes, fifty miles up the Pacific Coast Highway and back every day. You really cannot beat that..."

In addition to the article written by Neil, their is an interview with Neil's drum tech Lorne Wheaton as well.

The complete article is now online and can be read HERE.
---