Rush Announce Halifax and Hamilton Tour Dates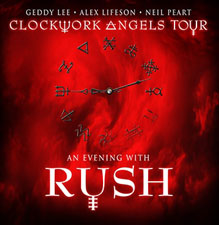 Rush have just posted the following announcement regarding their long-awaited return to Halifax, Nova Scotia and Hamilton, Ontario:

RUSH is excited to announce that after 26 years, they are returning to Halifax, Nova Scotia to perform as part of their Clockwork Angels Tour, on FRIDAY JULY 12 at the Halifax Metro Centre.

They are also pleased to announce a return to Hamilton, Ontario on SATURDAY, JULY 6 at Copps Coliseum.

Both shows will have a pre-sale begin Tuesday, February 19 at noon local time with tour packages password protected for you for the first 24 hours.

Visit http://www.vipnation.com/programs/rush---clockwork-angels-tour/
Password will be 2013Rush

You can also visit rush.musictoday.com/Rush/calendar.aspx for the Fan Club pre-sale that begins Tuesday, February 19 at noon local time and ends Thursday, Feb 21 at 5pm local time.

For those that are American Express card users, there will also be a Front of the Line pre-sale available for the Hamilton show. Please visit www.americanexpress.ca/frontoftheline for more details.

Unfortunately there was no mention regarding the remainder of the band's summer tour dates. Expectations, however, are that Rush will announce those dates in the very near future.

For a complete listing of all Rush Tour dates for the 2013 Leg of their Clockwork Angels tour, click HERE.
---
Related News Stories
[Rush Announce Initial 2013 North American Clockwork Angel Tour Dates - January 22nd, 2013]
[Rush Confirms North American Clockwork Angels Tour for 2013 - December 6th, 2012]
[Rush Clockwork Angels Tour Update: 2012 Leg Now Complete - December 3rd, 2012]
[Rush Clockwork Angels Tour Update: Second Leg Complete - November 4th, 2012]
[Rush Returns Home - Rocks Out Toronto - October 17th, 2012]
[Rush's Clockwork Angels Tour Resumes Tonight in Bridgeport, CT - October 10th, 2012]
[Rush Clockwork Angels Tour Update: First Leg Complete - October 1st, 2012]
[Alex Lifeson Talks About Clockwork Angels Set List Changes - September 17th, 2012]
[Rush Add San Diego Date to the Clockwork Angels Tour - September 10th, 2012]
[Rush's Clockwork Angels Tour Begins - Set List Revealed LIVE - September 7th, 2012]
[Clockwork Angels Tour - Teaser Photo Gallery - September 4th, 2012]
[Rush Bringing String Ensemble on Clockwork Angels Tour - June 18th, 2012]
[Rush Add Three New European Dates - Will Perform at the Sweden Rock Festival - May 22nd, 2012]
[Rush Add Second Toronto Show - Release European Fan Pre-Sale Information - May 15th, 2012]
[Rush Announce Initial 2013 European Tour Dates - May 14th, 2012]
---