Rush Win Ultimate Classic Rock's Bowl Championship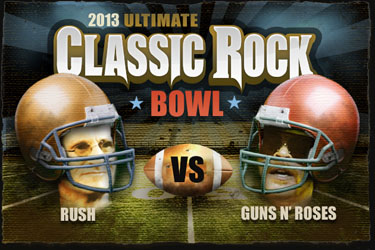 Several weeks ago, Ultimate Classic Rock began an online event where rock's biggest bands met up in a series of single-elimination polls to determine the genre's true champions. As the poll progressed through the weeks, it received attention from the band itself who periodically posted a 'Vote for Rush' message on their Facebook and Twitter feeds.

With the backing from the band, Rush easily defeated Lynyrd Skynyrd, Aerosmith and most recently Van Halen (58 to 42%) in their three matches. On the other side of the fence, Guns N' Roses were "were giant-killers" as they defeating the Rolling Stones, Led Zeppelin and, in a close battle, the Beatles (50.3 to 49.7%).

So it came down to Rush vs. GnR. And while GnR shot out to an early and impressive lead, Rush fans united to propel their band to an ultimate victory. In the end, Rush edged out Guns N' Roses by a score of 56.73% to 43.27%.

Congrats to Rush - and their fans - for pulling off this impressive win.

For a complete run-down of the poll, click HERE.
---