New Geddy Lee Video Interview with New York City's Q104.3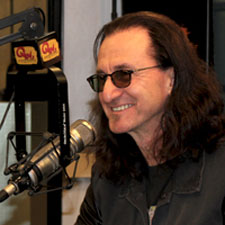 Geddy Lee sat down with Jim Kerr of New York's Q104.3 this morning for a nice 18-minute long interview where various topics including Rush's induction into the Rock & Roll Hall of Fame, Baseball and more were discussed:

RUSH seems to be more popular than ever before and Geddy Lee is thrilled by it, saying "It's kind of true and it's very gratifying, I have to say. At this tender age we feel like we have a lot to do and a lot of places to play. It's great fun, I have to say."

Geddy went on to chat about RUSH's "Clockwork Angels Tour," his hope that the Toronto Blue Jays can compete this year with the tremendous off season that they had acquiring star players and how proud he is of his kids, one of which has a PhD.

RUSH will finally be inducted into the Rock and Roll Hall of Fame in April and it seems like the fans had a lot to do with getting them in.


You can view the interview below or directly at this LINK.

Also check out the "In-Studio" photo gallery of Geddy's visit.


---

---

Thanks to Alexis Greenan and reader RJ Highstreet for the news.
---