Rush's R40 Live 40th Anniversary Tour Draws to a Close in Los Angeles Tonight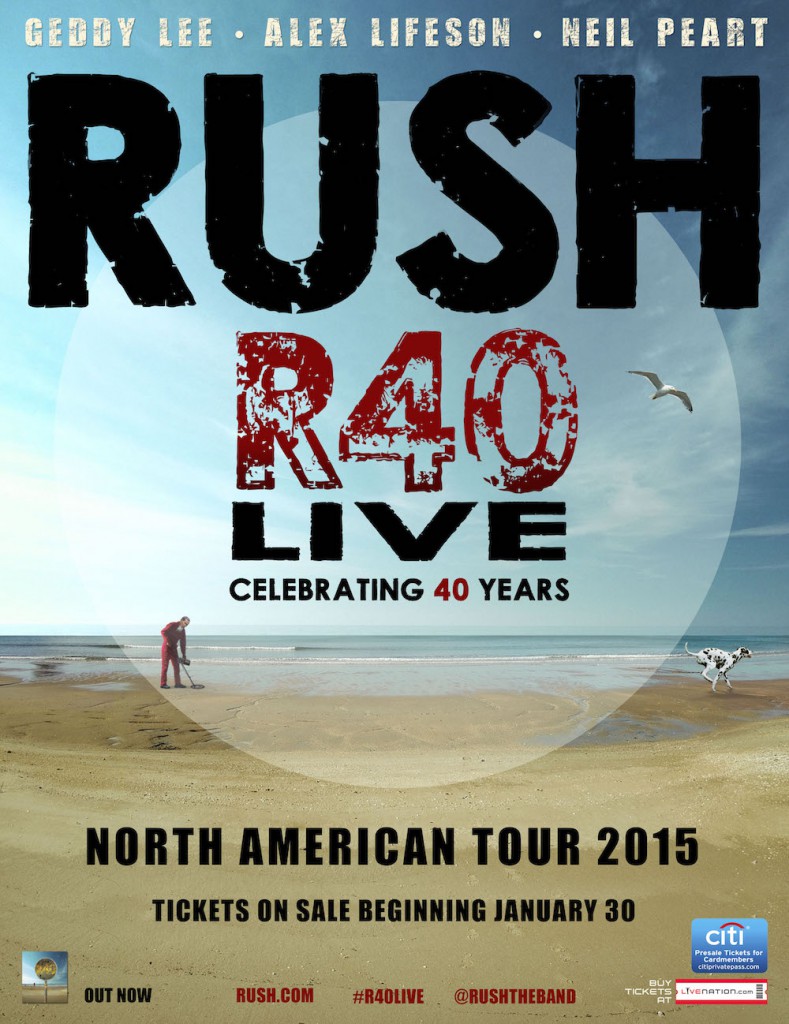 Update: There was a very touching moment at the end of Working Man. See the video below for all the highlights of the band's farewell.

---

Update: James Fell of the Los Angeles Times has just posted a brief interview with Geddy Lee titled For Rush's Geddy Lee, touring means training. Click HERE to read it.

---

When they turn the pages of history, Rush's history, the summer of 2015 will always be looked upon as one of the most exciting in the band's history. For more than forty years, Geddy Lee, Alex Lifeson, and Neil Peart have provided generations of fans with musical memories that will last a lifetime. From their thought-provoking albums to the incredible live shows, Rush have never ceased to amaze.

Yet as the old saying goes, all good things must come to an end, and so, a mere three months after it began, Rush will bring their latest chapter to an end, tonight, in Los Angeles. The R40 Live 40th Anniversary North American tour began on May 8th in Tulsa, Oklahoma and traveled to thirty-four cities across the continent, playing to sold-out arenas after sold-out arenas to thousands upon thousands of appreciative fans. If this truly is the last major tour for the band, I'm sure most fans would agree that R40 was the concert to top all concerts.

I want to take a moment to not only thank Rush, their management and crew for R40, but also all of you. So many of you generously supplied this site with pictures and stories from the R40 tour, and the conversations that occurred on Cygnus-X1.Net's Facebook Group Page have been amazing. Nothing seems to bring Rush fans together like a tour, and I'm happy this site brought so many of you together.

We'll be posting updates from tonight's show to the R40 Set List Page and, of course, we'll have photos uploaded as they come in. For those lucky enough to be in attendance tonight, have a fantastic time!

---

---


Key R40 Tour Links:




"Freeze this moment a little bit longer..."

Thank you, Rush!
---
Related News Stories
[Eddie Trunk Review of Rush's Denver Concert - Interview with Alex Lifeson and the Future of Rush Coming Soon - July 15th, 2015]
[Rush Return to New York City - Set to Close Out the 2nd Leg of Their R40 Tour at Madison Square Garden - June 29th, 2015]
[Rush Return Home to Toronto - June 17th, 2015]
[Rush To Film R40 Live Tour in Toronto (YYZ) - June 5th, 2015]
[Rush R40 Live 40th Anniversary Tour Update - First Leg Set to End in Virginia - May 30th, 2015]
[R40 Live 40th Anniversary Tour Update - First Week is in the Books - May 15th, 2015]
[Rush's R40 Live 40th Anniversary Tour Launches Tonight - Set List and Pictures Revealed Live! - May 8th, 2015]
[Countdown to R40: Rush Have Arrived in Tulsa! - May 1st, 2015]
[Alex Lifeson Talks About Rush's R40 Tour in New Interview - April 28th, 2015]
[Win a Meet & Greet with Members of Rush! - April 11th, 2015]
[Attention Rush Fans! Rush Wants Your Photos for Their R40 Live Tour - March 14th, 2015]
["Rush Currently Rehearsing in Los Angeles Ahead of R40 Tour - April 5th, 2015]
["Get Everyone to R40" Online Funding Event Now Underway - March 10th, 2015]
[Neil Peart Discusses the R40 Drum Kit in a New Video - January 27th, 2015]
[Alex Lifeson Stops By Q107 To Talk About The New R40 Tour - Cleveland Stop Still Possible - January 26th, 2015]
[Rush Announce R40 Live 40th Anniversary Tour - Band to Perform in 34 Cities Across North America - January 22nd, 2015]
[Rush 2015 Tour Rumors Begin To Gain Steam - December 30th, 2014]
---