Rush End the First Leg of the 2011 Time Machine Tour - Head Over to Europe for the Next Leg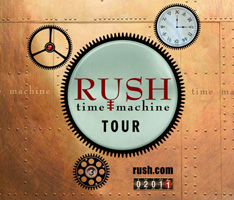 My, how time flies. Last night, Rush ended the first leg of their 2011 Time Machine Tour with a performance at the 1st Mariner Arena in Baltimore, Maryland, marking the 13th show on the 2011 leg which began back on March 30th.

The band will now take a week-long break before crossing the pond to Europe where they will play a dozen dates throughout May, including stops in Finland, Sweden, their first-ever stop in Ireland, Scotland, five shows in the UK, Holland and Germany.

The band will then take another week-long break before returning to the United States to close out the 2011 Time Machine Tour with 13 dates that will take place primarily across the western US. (Click HERE for all the dates).

By all accounts, Rush have been at the top of their game over the past month, playing to numerous sold-old venues and putting on incredible shows, particularly in Cleveland which, as most fans know, was a concert filmed for later release on DVD/Blu-Ray (hopefully before the year closes out).

Let's wish the band continued success as they bring their Time Machine Tour to the awaiting masses in Europe.

For numerous pictures from the first leg of the tour, click HERE.