Closer to the Heart Included in Guitar World's Top 30 12-String Guitar Songs of All Time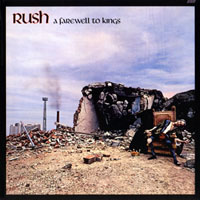 Guitar World Magazine has put together a list of the Top 30 12-String Guitar Songs of All Time; an interesting if not challenging list to compile:

When considering the choices for this list, we realized it wasn't as easy a task as we first thought.

What makes for a great 12-string guitar song as opposed to a great song that just happens to have a 12-string somewhere on it? Let's face it, if "Stairway to Heaven" had a ukulele on it, it would immediately be in the running for Greatest Ukulele Song of All Time.

Coming in at the #10 spot is Rush's own Closer to the Heart from their 1977 masterpiece A Farewell to Kings. Here's what they had to say about this classic song:

Taken from Rush's 1977 album A Farewell to Kings, "Closer to the Heart" begins with a majestic-sounding arpeggio picking pattern played by guitarist Alex Lifeson on a 12-string guitar. This song was also Rush's first hit in the U.K. and has been a staple of their live show ever since.

You can check out the entire list of 30 songs at this LINK.

Thanks to RushFanForever for passing along the news.