Rock and Roll Hall of Fame Nominations Are In - Without Rush Once Again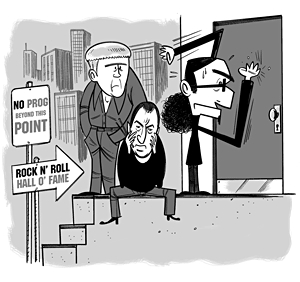 The Rock and Roll Hall of Fame has just announced the list of nominees for the 2012 induction class and, once again as has been the case for the past thirteen years, Rush has not made the grade.

A total of 15 nominees were listed. They are:

· Beastie Boys
· The Cure
· Donovan
· Eric B. & Rakim
· Guns 'N Roses
· Heart
· Joan Jett and The Blackhearts
· Freddie King
· Laura Nyro
· Red Hot Chili Peppers
· Rufus with Chaka Khan
· The Small Faces/The Faces
· The Spinners
· Donna Summer
· War

Wow. It's not just the lack of respect for Rush, but the selection of others before Rush that has infuriated fans all these years. We'll leave it at that.

The official press release can be read HERE.

For a great retrospective look at the history of Rush and the Rock and Roll Hall of Fame, check our this page from Power Windows.

Thanks to reader Brett Hale for passing along the news.