Geddy Lee Options Dave Bidini's Baseballissimo - Update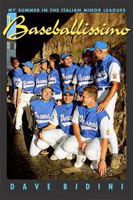 Back in June of last year, we first reported that Geddy Lee had purchased the film rights to Dave Bidini's Baseballissimo; a look at the game of baseball as it's played in Italy's farm leagues.

It's now being reported that the writing team of Jay Baruchel and Jesse Chabot will be working on the screen adaptation of Bidini's book:

Jay Baruchel found success with his first venture into screenwriting, the hockey comedy Goon. The movie premiered Saturday at the Toronto International Film Festival, and is expected to come out of the fest with a distribution deal. The actor/writer is not one to rest on his laurels, and is already setting up his next project—another sports comedy—with writing partner Jesse Chabot. Variety reports Baruchel and Chabot will adapt the 2005 non-fiction book Baseballissimo by Dave Bidini. The book "charts the author's family adventures in Nettuno, the baseball capital of Italy, where American G.I.s introduced the game in 1944." Rush frontman and "baseball fanatic" Geddy Lee optioned the book last year, and will team with A71 president David Miller and Bidini to produce.

Click HERE for more information on the announcement.

To purchase a copy of Baseballissimo, please click HERE.

Thanks to Eric from Power Windows for passing along the news.
---
Related News Stories
[
Geddy Lee Options Dave Bidini's Baseballissimo
- June 26th, 2010]
---