Charity Auction Alert: Autographed Neil Peart Drum Head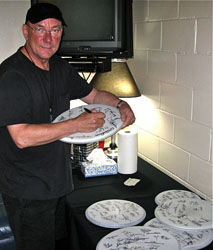 DrumsForCures, Inc. DRUMSTRONG, an organization that sponsors events which raise awareness and funds for cancer programs globally, is currently holding a special charity auction. The item being auctioned off is a 14" drum head which was mounted on Neil Peart's original 1974 chrome Slingerland kit (affectionately known as "Chromey").

This head is not only autographed by Neil himself, but also by 18 celebrity drum artists who played on this drum head at PASIC in Indianapolis in 2009.

The auction runs through October 16th. Bids for the drum head can be made via this Ebay Page.

Thanks to Tom Bronkema for the news.
---