Rush's Clockwork Angels Tour Film - Coming to a Theater Near You?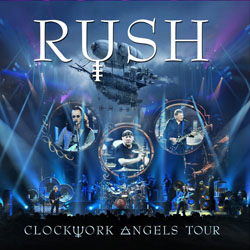 While nothing has been officially announced yet, it appears that Rush's upcoming Clockwork Angels Tour DVD will make its theatrical debut on November 18th.

The concert film showed up on a listing for several Goodrich Quality Theaters; a chain of 30 movie theaters, headquartered in Grand Rapids, MI.

Additional listings are also available on MovieFone as well as Fandango, however showtimes are still not available.

We'll have more information on this news as it becomes available.

The Clockwork Angels Tour Video will be released on November 19th and can be pre-ordered via the links below:

Thanks to Joe Pesch for the news.
---
Related News Stories
[New VH-1 Interview: Rush's Geddy Lee Talks About New Live Recording - October 17th, 2013]
[Clockwork Angels Tour Video Premiere - 'The Garden' Now Online - October 17th, 2013]
[Rush's Clockwork Angels Tour DVD Coming November 19th - Pre-Order Today! - September 16th, 2013]
[Rush's Clockwork Angels Tour Concert Film Trailer Now Online - June 8th, 2013]
[Rush Clockwork Angels Tour DVD Coming in September - February 25th, 2013]
[Rush Clockwork Angels Tour DVD Not Coming May 21st - January 16th, 2013]
[Rush Clockwork Angels Tour DVD Coming May 21st - January 11th, 2013]
---