Geddy Lee Dives Into Rush's Video Timeline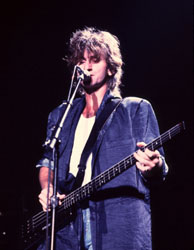 Rolling Stone Magazine has just posted a new interview/article with Geddy Lee titled Geddy Lee Dives Into Rush's Video Timeline. In the article, Rush's front man chats about some of the band's most memorable music videos and fashion statements.

From the article:

Geddy Lee is the first to admit that Rush do not have a great track record when it comes to making music videos, and their track record of picking stylish haircuts and outfits also leaves a bit to be desired. A few weeks ago, he sat down with Rolling Stone to discuss Rush's new live DVD and their future plans. Towards the end, we took out an iPad and showed him 10 Rush videos on YouTube. Sometimes, he looked a little horrified at his videos and haircuts, but he had a lot to say about all of them...

The article includes links to various YouTube videos, including some great earlier videos for Working Man, Anthem, La Villa Strangiato and more.

To read through the entire article, click HERE.
---