Rush to release 10" Picture Disc of "The Garden" for Black Friday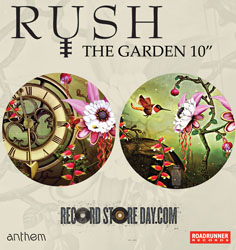 Rush.Com have just announced that the final track from their Clockwork Angels album "The Garden" will be released as a special 10" Picture Disc single on Black Friday (November 29th).

From the announcement:

After a successful campaign last year for Record Store Day, Rush is again partnering with independent retail for an exclusive 10" picture disc for Black Friday – November 29th.

The 10" includes two versions of "The Garden" – the closing track from 2012's Clockwork Angels. Side A features the studio version from the album, while Side B includes a live version of the song with the Clockwork Angels String Ensemble taken from the upcoming live release Clockwork Angels Tour. Designed by Crankbunny (Norma V. Toraya), the 10" features artwork from her stunning animated screen projections shown during the performance of The Garden during the Clockwork Angels tour.

This special 10" will be limited and available only for this special celebration of independent music retailers.

For more information on Record Store Day, and to find an independent retailer near you, click HERE.

We'll have more information about the retailers selling this special limited-edition single once it becomes available.

Thanks to Joe Pesch for the news.
---