Clockwork Angels Tour Video Premiere - 'The Garden' Now Online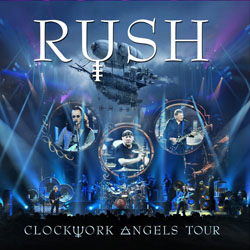 Update: (10/28/2013): Click HERE for the track premiere of 2112.

---

Rush have just released a preview of their upcoming Clockwork Angels Tour Video. The preview track is a stellar version of The Garden.

Rolling Stone Magazine has also released the video premiere with an accompanying article at this LINK. From the article:

When Rush hit the road last year to support their new album, Clockwork Angels, they decided to do something they'd never done before: invite additional musicians onto their stage. The new material had been recorded with a string section, and they wanted to do the album justice by bringing an eight-piece string ensemble on the road.

The tour – which featured a ton of 1980s tunes the band hadn't played in ages – was a huge success, and they recorded a show in Dallas for a DVD and CD that hits shelves on November 19th. (Click here to pre-order the DVD.) Here, you can watch an exclusive preview clip of the band playing "The Garden," the grand finale of Clockwork Angels.

You can watch the video preview via the embedded viewer below or directly at this YouTube Link.

---

---

The Clockwork Angels Tour Video will be released on November 19th and can be pre-ordered via the links below:




Thanks to everyone who alerted me to this story.
---
Related News Stories
[Rush's Clockwork Angels Tour DVD Coming November 19th - Pre-Order Today! - September 16th, 2013]
[Rush's Clockwork Angels Tour Concert Film Trailer Now Online - June 8th, 2013]
[Rush Clockwork Angels Tour DVD Coming in September - February 25th, 2013]
[Rush Clockwork Angels Tour DVD Not Coming May 21st - January 16th, 2013]
[Rush Clockwork Angels Tour DVD Coming May 21st - January 11th, 2013]
---