Rush: A Brief History of Time, Part 11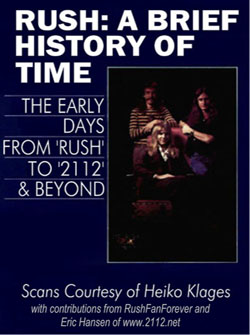 It's been about nine months since the last update to Cygnus-X1.Net's Rush: A Brief History of Time; an ever-increasing archive of articles, interviews, reviews and advertisements about Rush that span every decade from the 70's onward and collected from the world over.

In this eleventh installment, 98 new articles and advertisements have been added; 14 from the 1970's, 50 from the 1980's, 15 from the 1990's, 6 from the 2000's and 13 from the current 2010 decade. This installment includes what may be the earliest mentions of Rush in Billboard Magazine - from 1973! Heavy emphasis on the release of Power Windows is reflected within many of the 80's articles while some insightful interviews with Geddy Lee and Alex Lifeson about their respective solo albums is also included.

Below is a sample of this eleventh installment. To check out the entire segment, click HERE.

To check out all eleven installments of Rush: A Brief History of Time, including a chronological listing of all the articles, click HERE.

Enjoy-

---


In this eleventh installment of Rush: A Brief History of Time, a total of 98 new articles and advertisements have been added. The additions span all five decades of Rush's legacy including some of the earliest mentions of the band in Billboard Magazine -- from 1973! Once again, tremendous thanks go out to long-time reader and site contributor Heiko Klages of Germany and Eric Hansen from Power Windows whom both providing the bulk of the articles in this installment. Additional thanks also go out to reader RushFanForever.

Let's start off this installment with the aforementioned Billboard articles from 1973. Rush was briefly mentioned in both this article from the September 1st, 1973 and this article from the September 15th, 1973 editions of the magazine. While there is very little content to the articles, these could represent the first time Rush were mentioned in Billboard.

Continuing on the Billboard trend, here are links to additional Rush appearances in the magazine during the 1970's:

Continuing with the early to mid 70's, we have two very positive reviews of the band's debut album. The first comes from the February 1975 issue of Circus Raves magazine and the February 1975 issue of Creem Magazine, which made this interesting observation:

"...Classic three man heavy metal that distorts no matter how low you play it. Lead singer sounds close enough to Robert Plant to get called an imitator, but has enough of his own style to get away with it. Down to earth lyrics: none of this progressive shit..."

Just wait, Creem. Just wait. :-)

We also have a lengthy review of 2112 that was published in the Dutch magazine Muziekkrant OOR titled Rush de Zware Zone or "Rush Heavy Zone".

Later, in 1977, the Daily Herald of Wisconsin published this article ahead of Rush's May 9th, 1977 performance at the Wausau Newman High School in Wausau, Wisconsin. Also included are some Polaroid pictures of the band as well as a concert advertisement. You can also view enhanced version of the pictures HERE.

Later in 1977, Rush was featured in Circus Magazine in a full-page article titled Rush Rock & Roll in the Classroom. Yes, just as the title suggests, all three members of Rush did visit a classroom for a Q&A session from some students. The questions included some deep, thought-provoking topics including "Do you smoke dope?", "What kind of cars do you own?" and "How old are you?". Still, a very fun read.

We'll close out the 70's with this very interesting Biography/Press Kit about the band that was published by Phonogram USA and released in September of 1978.

On to the 80's which we'll open with another press kit/biography/Rush Facts sheet that was published in connection with the release of Permanent Waves. This kit also includes a story by Neil Peart that would later appear in the Permanent Waves tour book.

Continuing on the theme of press kits comes this offering that was published in March of 1980 by The Source; NBC Radio's Young Adult Network.

Rush appeared in Billboard Magazine dozens of times throughout the 80's. Here's a listing of nine new articles that featured the band:

A March 1980 issue of the Chicago Tribune published an interview with Neil Peart titled Bucking the trends, Rush rides the crest of 'Permanent Waves'. Unfortunately only the first part of the interview is available in this document however the entire transcription of the interview is available HERE.

The March 6th, 1983 edition of the Houston Chronicle published this lengthy pre-concert interview with the band. In it, Alex comments at the possibility of recording a solo album:

"Are those solo albums on the back burner? Are they going to be realized?"
"I'm sure they'll be realized. It's just a matter of when. I mean, when you tour for four to five months, and you get six weeks off, the last thing you want to do is lock yourself up in the studio working. I think we need to take a good chunk of time off to get really serious about something like that. However, if we work at it piecemeal, I can see a project like that taking a year, two years."

One of my favorite additions to this installment is this great June 1983 Creem Magazine interview with Hugh Syme about all of this work on Rush's album covers. Hugh provides some interesting insights into the covers for Permanent Wages, Moving Pictures and Signals among others:

Well, I guess that just leaves the dog and the fire hydrant.
Well, I was given the word "Signals." It was such a broad concept that it was baffling for all of us. We really had trouble with that one, and I decided that, with such a phenomenally important word with the kind of potency it potentially had, to go with something really dumb, really inane. But something which would still tie in with songs such as "Chemistry," and the subdivision aspect of the fire hydrants, lawns, and neighborhood dogs.

As we head into the mid-80's, and the release of Power Windows, numerous reviews of Rush's eleventh studio album began to pop up across the globe. Here's a listing of this installment's Power Windows reviews:

Click HERE to read more.
---