Rush's Vapor Trails Re-Enters the Billboard Charts at #35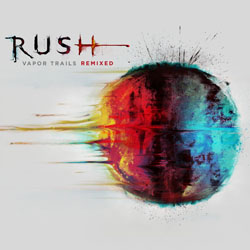 Update (10/20/2013): In its second week on the charts, Vapor Trails Remixed has dropped precipitously, landing in the #137 position on the Billboard Top 200 Albums chart.

---

The release of the remixed version of Rush's Vapor Trails has propelled the album back on to the Billboard Charts, coming in at #35.

When Vapor Trails was first released back in 2002, the come-back album for the band peaked at position #6 on the charts.

Vapor Trails Remixed also landed on the #9 spot in Billboard's Top Rock Albums chart, #9 on Billboard's Tastemaker Albums chart and #3 on Billboard's Hard Rock Albums chart.

In other Vapor Trails Remixed news, David Bottrill, the man behind the remixed version of the album, discussed the process in this interview with PopDose.

Haven't ordered your copy of Vapor Trails Remixed yet? You can do so via the links below.




Thanks to Michael Lynch for the news.
---
Related News Stories
[Rush's Vapor Trails Remix and 7-Disc Box Set of Atlantic Era Studio Albums Released Today - September 30th, 2013]
[Rush's Vapor Trails Remix Streaming Online at Rolling Stone Magazine - September 27th, 2013]
[Alex Lifeson Talks to Classic Rock Magazine About Rush's Vapor Trails Remix and the Next Rush Album - September 18th, 2013]
[Rush's Vapor Trails Remix and 7-Disc Box Set of Atlantic Era Studio Albums Coming October 1st - August 1st, 2013]
---