Full Steam: M Music & Musicians Magazine Interview with Geddy Lee & Alex Lifeson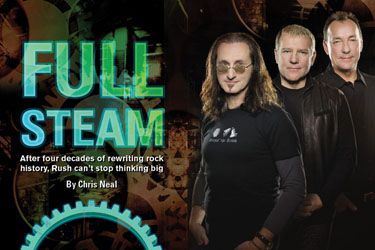 M Music & Musicians Online Magazine has just published a joint interview with Geddy Lee and Alex Lifeson. Titled Full Steam, the interview touches upon subjects such as the writing and concept development process of Clockwork Angels, working with producer Nick Raskulinecz, recording at Revolution Recording in Toronto and looking ahead to the tour -- and the future:

What does the future hold?
LIFESON: It seems that with every tour we feel like we're playing better and better. The show is getting tighter, and we sense greater confidence in our playing abilities. And in a production sense, the show has also developed with every new album and every new tour. So there are always ways to move forward. We've always set a high standard for ourselves in terms of our playing, and the fact that we're getting a lot of younger people in the audience indicates that they're looking for players. The show is over three hours, and there are not too many bands that do that these days.

LEE: We're going to be rehearsing for at least seven or eight weeks this summer to make sure that we can play these songs. Putting the tour together is a big job, and obviously we want our fans to love what we're putting together. So it's hard to see past that, to be honest. We'll figure it out.

You can read the entire interview at this LINK.

Thanks to Eric from Power Windows for sending along the news.
---