Sonic Element's Moving Signals & Waves: A Tribute To Rush Album Coming Soon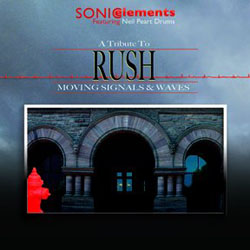 Earlier this year, Sonic Elements, a "Sonic Reality Progressive Rock Project" consisting of several progressive rock stars including Rik Emmett (Triumph), Billy Sherwood and Neil Peart via Sonic Reality's Neil Pearts Drum Software released a Rush tribute EP titled XYZ: A Tribute to Rush. Included in the EP were Rush classics Tom Sawyer, Red Barchetta, YYZ and Limelight.

Through their Facebook Page, Sonic Elements has announced that a full-length tribute album titled Moving Signals & Waves will now be released "later this summer". Given the title of the album, we can expect tracks from Permanent Waves and Signals.

More information on the full-length tribute album was revealed during an interview with Sonic Reality's Dave Kerzner and Andrew Olson of the AndyO Experience:

I'm producing, engineering and playing keys on a full album of Rush covers featuring Neil Peart of Rush on drums via his Sonic Reality sample library "Neil Peart Drums" plus special guests from bands like Yes, Porcupine Tree, Asia FJP, It Bites, Triumph and more. Due to be out on iTunes and on CD by the end of the Summer. :)!

Preview mixes of The Spirit of Radio and Subdivisions can be heard via the players below or directly at these links: SoR | Sub.

---

---

Thanks to Andrew Olson and Ed from RushIsABand for the news.
---