Rush: A Brief History of Time Part IX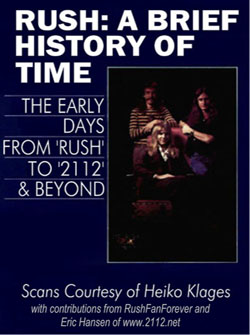 It's been six months since the last update to Cygnus-X1.Net's Rush: A Brief History of Time; an on-going collection of articles, interviews, reviews and advertisements about Rush that spans every decade from the 70's onward and collected from the world over.

Part IX of this segment includes 118 new articles; 73 from the 80's, 17 from the 90's, 7 from the 2000's and 21 from the current 2010 decade. The majority of the earlier articles focus around the release of Signals and Grace Under Pressure while the latest articles focus on Snakes & Arrows and, of course, Clockwork Angels.

Below is a sample of Part IX. To check out the entire segment, click HERE.

Once again, huge thanks go out to long-time reader and site contributor Heiko Klages of Germany for providing the bulk of the articles that appear in this installment. Additional thanks go out to Eric Hansen from Power Windows, Ed Stenger from RushIsABand, Rush Fan/Collector extraordinaire Joe Pesch, and readers Joe Sterle, Monica Zimmerman and Jun'ya of the Japanese Rush Fan site The Sphere. Enjoy.

---

We'll start this segment off with a short article that appeared in the January 1982 issue of Sounds Magazine from the UK. Titled Rush To Headline Next Donington?, this piece speculates that Rush would be performing at the Castle Donington Festival in 1983. For what it's worth, they didn't. :-)



---


This next piece was an update from Neil Peart that appeared in the January 1982 issue of Kerrang! Magazine. From the piece:

Playing live and playing in the studio are as different as talking and writing. Both are very satisfying, and certainly equally difficult to do well, but one is spontaneous and irreversible, while the other is controlled and infinitely correctable. Like talking, it can also be a case of "the wrong think at the wrong time", and one ends up with a mouthful of feet (or drumsticks!). In the studio, however, it is more like writing something down; you just keep going over it until you get it right. And if you can't just throw it away. No problem.

---


Up next is a two-part piece that originally appeared in the February 4th, 1982 issue of Rolling Stone Magazine. The first part is a short 2 1/2 star review of Exit...Stage Left while the second piece features all three members of Rush in an article called Faceless Bands.



---


Continuing in 1982, we come to another review of Exit...Stage Left that appeared in the February 28th issue of Circus Magazine. The magazine also include a reader's poll section which named Neil Peart as the second-best songwriter, Rush as the third-best live show, and Neil as the best drummer.



---


Up next is the first of numerous entries from foreign countries. This favorable review of Exit...Stage Left came from the February 1982 issue of the German Stereoplay magazine.



---


We're back in the U.S.A. with this next entry; a dual piece from the March 31st, 1982 issue of Circus Magazine. Titled Lifeson Arrives Stage Center with Rush, this piece reflects on how Alex has 'grown' with Rush. From the piece:

When critics blasted Rush for their stylistic similarity to Zeppelin on their early albums, Lifeson's guitar playing absorbed much of the blame. But Alex worked hard to perfect his playing, and now that he's become one of rock's premier axemen, he freely admits that the critics who insulted his playing were not entirely off the mark.

The issue also contained a small piece on Neil Peart titled Private Rush:

Neil admits that the members of the band aren't public people, "so it's a constant battle trying to adjust to public life. None of us is the type to smile and say, 'Hey, you're beautiful,' and unfortunately, people expect an unreal facade. They expect you to play a role for them because it's their fantasy. You're their hero; therefore you should do what they want you to.

---


In the April 3rd, 1982 issue of Sounds Magazine from the UK comes a reader's response to an early piece called Everywhere is Nowhere. The response gets the title Rush vs. Anti-Nowhere League and features some interesting rebuttals including why Rush covers are not pornographic and how Rush did not record Olivia Newton-John's version of Xanadu. I only wish I had the original article to reference back to :)



---


The April 30th, 1982 issue of RAM; an Australian newspaper, had an article featuring several hard rock, metal and progressive acts. The author, Tim McGee, did not shine a favorable light on Rush, calling them "evil" and "debilitating". Whatever. (It's actually a pretty humorous read overall...)



---


In May of 1982, Modern Drummer and Neil Peart held a contest where one lucky winner would receive Neil's custom Tama Rosewood Superstar Drumkit. All they had to do was write a 100-word (or less) essay entitled Why I Would Like To Win Neil Peart's Drums. This double piece includes the original announcement and rules of the contest along with Neil's response and winning announcement later that year from the October 1982 issue. In all, 4,625 people entered the contest and Neil read every entry. What a guy :)



---


The next piece is a moderately harsh review of Signals. Titled Semi Flawed Signal, this review was written by Mike Putterford and appeared in the September 11th, 1982 issue of Sounds Magazine from the UK. Putterford did have praise for 'The Analog Kid' and 'Losing It' but felt the rest of the album failed to match their earlier efforts.



---


In stark contrast to that reviews comes another one for Signals from the September 23rd, 1928 issue of Kerrang! Magazine. This one is called A Rush of Old Age and ends with the statement "...Approach this album with an open mind and you'll appreciate the beauty of Rush's acceptance of the mantle of middle-age..." Middle Age? In 1982? I wonder how they would be classified today then :) There's also a humorous reader letter that insists that "New World Man" was recorded by The Police or Duran Duran, but certainly not Rush!



---


Up next is a short semi-biographical piece on Rush that appeared in the October 2nd, 1982 issue of the Record Mirror from the UK titled Rushing About... followed by a short German review of Signals from the October 7th, 1982 edition of the Bravo Newspaper.



---


Continuing in October of 1982, we move to an article that appeared in the October 21st, 1982 issue of Kerrang! magazine. The article, titled Geddy: "Touring Britain a Real Grind..." has Geddy discussing Signals and, as the title suggests, touring both in the US and UK. This piece was written by Steve Gett who is no stranger to writing about Rush.



---


The October 31st, 1982 issue of Circus Magazine contained a lengthy article on Rush titled Rush Keep the Boat Afloat by David Fricke; a look back to an article that was originally released in 1980 during the height of the success of Permanent Waves:

Permanent Waves overflows with that kind of self-confidence. A near-perfect marriage of heavy-metal rage and arty Brit-rock maneuvers directly descended from Yes and Genesis, the album not only finds guitarist Lifeson finally stepping out confidently from Jimmy Page's shadow and Lee sanding off some of the more intensively rough edges of his high rooster's crow, but it is Rush's most accessible offering to date without revealing the slightest hint of compromise. Unfazed by charges that they're holding the old line while the new wave rolls over rock, the band found a suitable irony in the album title Permanent Waves. "As far as I can see," offers Lee, "new wave, old wave, yellow wave-it's all the same. The water doesn't come and go, waves do."

---


This next short review of Signals comes from the November 7th, 1982 issue of the Belgium newspaper Joepie. The article is titled Vreemde signalen uit een andere wereld which translate to Strange signals from another world which is followed by a short German article from the November 10th, 1982 issue of Pop Rocky Magazine called Viele fans möchten sie sehen aber: Rush kneifen - or Many fans want to see it but: Rush pinch.



---


Next up is a favorable review of Signals from the November 21st, 1982 edition of the Pittsburgh Press. The piece is simply titled 'Signals' from Rush.



---


The next four pieces are all foreign reviews of Signals; two from Germany, one from France and one from Spain. Of the German pieces, the first comes from the November '82 issue of Musik Express and the second comes from the November '82 issue of Musik Szene. The France piece comes from the November '82 issue of Rock & Folk while the Spain piece comes from the December '82 issue of Popular 1 Rock & Roll Magazine.



---


Continuing with Signals-themes pieces, the December 6th, 1982 edition of The Boston Globe posted this article titled Sending New Signals, Rush on the Defense which includes a brief interview with Neil Peart.



---


Up next is an interesting, possibly fan-produced 9-page document featuring some photos of Rush and some box office results. Titled simply Rush Document Special, the candid photos alone make this one a worth-while addition.



---


Finally, we'll end the articles from 1982 with a piece that appeared in the University of Texas campus paper. Neil Peart penned a response to some earlier criticism of Rush. You can check this well-written rebuttal titled Rock Groups Hardly Satanic HERE.

---

Check out the rest of the ninth installment HERE.
---