Rush's Clockwork Angels Named Best Album of 2012 -- So Far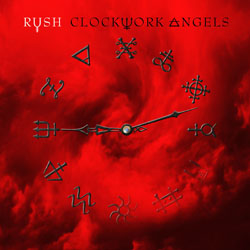 As we enter into the second-half of 2012, Jeremy Thomas' The 8-Ball feature from 411mania.com has posted his list of the top 8 albums of 2012 thus far. Coming in at the top spot is Rush's Clockwork Angels:

#1: Rush - Clockwork Angels

Honestly, at this point in the year there wasn't much of a choice. Rush had not released an album in over five years and while the band has never been bad or even remotely mediocre, I felt that Snakes & Arrows was a little bit uninspired compared to the rest of the band's work. As such, I was looking for the venerable Canadian rock gods to deliver and to say they did so is an understatement. To me Clockwork Angels is, without any exaggeration, the band's best album in at least a couple decades. The group delivered a more focused and impressive effort here, loosely written around the idea of a man on a quest to follow his dreams. Neil Peart's lyrics are some of my favorites of his pretty much ever and the band's sound is just as good as they've ever been. There are a lot of bands who have lost their way well after they reach the ten year mark or even fifteen, buried under the weight of their back catalogue and impossibly high expectations. Rush has been rocking for over forty years and is still going as strong as they ever have before.

Other albums on the list include Slash's Apocalyptic Love, Jack White's Blunderbuss and Halestorm's The Strange Case Of….

You can check out the entire list at this LINK.
---