Geddy Lee and Alex Lifeson to Appear on VH1 Classic's On Tap Radio Show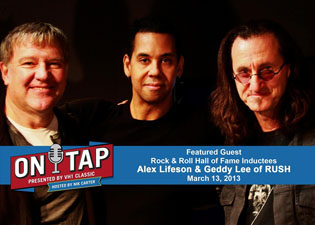 VH1 Classic's new syndicated radio show On Tap, which is hosted by Nik Carter, just announced that both Geddy Lee and Alex Lifeson would be featured on tonight's episode. From the announcement:

You are NOT going to want to miss On Tap tonight because we have a SUPER EXCLUSIVE show for your auditory pleasure!

Nik Carter sits down with soon-to-be Rock and Roll Hall of Famers Geddy Lee and Alex Lifeson of RUSH at the On Tap Rock Bar!

Nik, Geddy and Alex talk about the Rock and Roll Hall of Fame, the diversity of their audiences, when political figures use their songs without their permission and SO much more!

There is a three-minute preview clip of the interview available on the On Tap Facebook Page.

For a complete list of stations where the show will be aired, click HERE. The list also indicates whether or not the stations will be streaming the interview.

For additional information about the On Tap radio show, click HERE.

Thanks to Ed from RushIsABand for the news.
---