Four Questions With Geddy Lee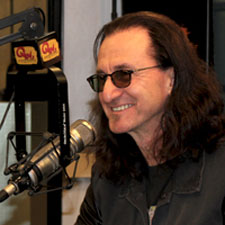 Last week, we reported that Geddy Lee, while visiting New York City, stopped by the Q104.3 studios to chat with DJ Jim Kerr. A video of Geddy's visit and chat with Kerr was released as well. Click HERE to view it.

Today, Q104.3 have released a follow-up video called Four Questions With Geddy Lee:

RUSH's Geddy Lee stopped by Q104.3 last week and we had to get his take on a few topics. Check out what's the most surprising thing he has on his iPod, who will win the World Series, the role that Canada had in Argo, and just what makes the perfect Poutine?

You can check out this video via the player below or directly at this LINK.

Not surprisingly, Geddy would like to see the Bluejays win Baseball's World Series this year.

Be sure to check out the Q104.3 Photo Gallery which has several pictures of Geddy's visit to the radio station.



---

---

Thanks to Alexis Greenan From Q104.3 for the news.
---