Eddie Trunk Interview with Geddy Lee and Alex Lifeson Airs Tonight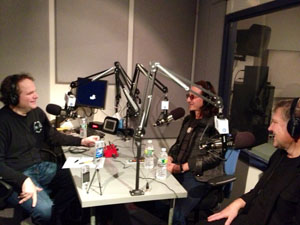 Update: The complete video interview is now available via YouTube at this LINK.

---

Update: Eddie Trunk just posted a tweet clarifying that his show will air tonight between 11pm and 2am EST. The interview segment with Geddy and Alex will air around midnight.

---

When Geddy Lee and Alex Lifeson visited New York City last month, one of the many interviews they participated in was a sit-down with radio-personality Eddie Trunk; a long-time fan and supporter of the band. According to an announcement from Trunk, yhe interview is now set to air on his radio special That Metal Show tonight. From the announcement:

...This Friday on Q104.3 show will be an all new interview with Geddy & Alex of Rush! I recorded it a week and a half ago and we talk about the new album, tour, old albums, baseball, and the bands future. Don't miss this all new exclusive interview this Friday. Show starts at 11PM ET. You can listen in the NYC area over 104.3 FM or anywhere in the US via the free stream at www.q1043.com or with the free iheartradio app. If using the app hit Q104.3/NY/Classic Rock. Please note I have no control on streams being available outside the USA. The show this Monday on SiriusXM is recorded. Back live there 3/25. Also I have video of the entire Rush interview. That will be posted first for AA Members of the site, then a week later for all here after the audio runs on all radio outlets. Look for that around 3/25 for members, the next week free to all...

For more information and to listen to the interview, please check out Q104.3's website.

Thanks to reader RJ Highstreet for the news.
---