Rush Sighting on Jeopardy!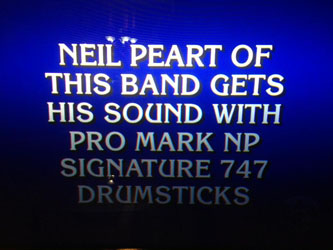 Tonight's episode of Jeopardy! (Episode #6555) included a Rush / Neil Peart sighting within one of the questions.

As the screen shot to the right reflects, the 'answer' was "Neil Peart of this band gets his sound with ProMark NP Signature 747 Drumsticks".

According to reader Cheryl Collins Arndts, Alex Trebek did not pronounce Neil's last name correctly. One of the contestants did end with the proper response of "Who is Rush?" and that the question was valued at $1,600 in the category of Drummer For the Band.

If anyone has additional information on tonight's sighting, or perhaps a video of the segment, please let us know.

This isn't the first Rush reference on Jeopardy! Another Rush-related question also appeared back in 2011. Click HERE for a video of that sighting.

Many thanks to Sheri Geddygirl Beri for the news and Angelo Franco for the screen capture.
---