Rush Announce New Tour Date at the Festival d'été de Québec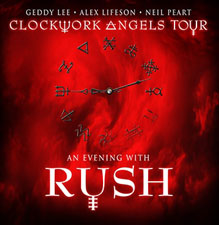 Rush has just announced another tour date on their upcoming Clockwork Angels 2013 tour. The new date, July 10th, will take place at the Festival d'été de Québec in Québec City on the Bell Stage on the Plains of Abraham.

From the announcement:

Quebec City, March 15, 2013 – With a new critically-acclaimed album out, Rush is bringing their epic Clockwork Angels Tour to the Festival on July 10. They'll be playing the Bell Stage on the Plains of Abraham in what will be their only show in Québec. And what a show ─ this will be a huge production with projections, special effects and even the Clockwork Angels String Ensemble to add a complex layer of sound to both their new work and their rich repertoire.

Remembering the enthusiastic Festival crowds in 2010, Geddy Lee, Neil Peart and Alex Lifeson are excited to be back.

"We know that Rush will blow our many rock fans away. And because this is their only stop in the province, we expect people to be coming in from all over to see these three world-famous rock stars who are still going strong after almost 40 years", program director Louis Bellavance was proud to say.

Band of the Year and Album of the Year winners at the 2012 Classic Rock Awards in London, Rush will soon be inducted into the Rock and Roll Hall of Fame.

75,000 passes for the Festival d'été de Québec will go on sale Saturday, March 16 at infofestival.com.

The Festival d'été de Québec is presented by Bell in collaboration with Molson Dry.

For a complete listing of all Rush Tour dates for the 2013 Leg of their Clockwork Angels tour, click HERE.
---
Related News Stories
[Rush Announce Second Halifax Show - July 14th - March 11th, 2013]
[Rush To Perform at the Ottawa Bluesfest on July 8th - February 28th, 2013]
[Rush Announce Initial 2013 North American Clockwork Angel Tour Dates - January 22nd, 2013]
[Rush Confirms North American Clockwork Angels Tour for 2013 - December 6th, 2012]
[Rush Clockwork Angels Tour Update: 2012 Leg Now Complete - December 3rd, 2012]
[Rush Clockwork Angels Tour Update: Second Leg Complete - November 4th, 2012]
[Rush Returns Home - Rocks Out Toronto - October 17th, 2012]
[Rush's Clockwork Angels Tour Resumes Tonight in Bridgeport, CT - October 10th, 2012]
[Rush Clockwork Angels Tour Update: First Leg Complete - October 1st, 2012]
[Alex Lifeson Talks About Clockwork Angels Set List Changes - September 17th, 2012]
[Rush Add San Diego Date to the Clockwork Angels Tour - September 10th, 2012]
[Rush's Clockwork Angels Tour Begins - Set List Revealed LIVE - September 7th, 2012]
[Clockwork Angels Tour - Teaser Photo Gallery - September 4th, 2012]
[Rush Bringing String Ensemble on Clockwork Angels Tour - June 18th, 2012]
[Rush Add Three New European Dates - Will Perform at the Sweden Rock Festival - May 22nd, 2012]
[Rush Add Second Toronto Show - Release European Fan Pre-Sale Information - May 15th, 2012]
[Rush Announce Initial 2013 European Tour Dates - May 14th, 2012]
---