Rush Announce Second Halifax Show - July 14th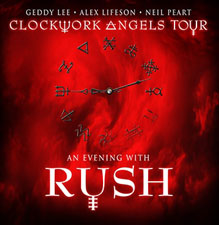 It's been over two decades since Rush performed in Halifax, Nova Scotia. So when the band first announced that they would be returning to the overlooked Canadian location during their Clockwork Angels tour, it was no surprise that tickets sold out in minutes.

Due to that overwhelming response, Rush have just announced that a second Halifax show at the Halifax Metro Centre will now be added on July 14th. From Rush.com:

After the first show on July 12 sold out in minutes, Rush changed their schedule to accommodate a second show for the city they haven't been to in over 2 decades and announces a second show in Halifax on July 14 at the Metro Centre. "We are thrilled that the good folks of Halifax have forgiven our long absence from their beautiful city and have decided to come out and celebrate with us!!" said Geddy Lee. Come rock with Rush in Halifax on July 14!

Tickets for the second Halifax show go on sale this coming Saturday, March 16th at 10AM. There will also be a VIP pre-sale and Music Today Fan pre-sale beginning tomorrow, March 12th at 10AM.

For a complete listing of all Rush Tour dates for the 2013 Leg of their Clockwork Angels tour, click HERE.
---
Related News Stories
[Rush To Perform at the Ottawa Bluesfest on July 8th - February 28th, 2013]
[Rush Announce Initial 2013 North American Clockwork Angel Tour Dates - January 22nd, 2013]
[Rush Confirms North American Clockwork Angels Tour for 2013 - December 6th, 2012]
[Rush Clockwork Angels Tour Update: 2012 Leg Now Complete - December 3rd, 2012]
[Rush Clockwork Angels Tour Update: Second Leg Complete - November 4th, 2012]
[Rush Returns Home - Rocks Out Toronto - October 17th, 2012]
[Rush's Clockwork Angels Tour Resumes Tonight in Bridgeport, CT - October 10th, 2012]
[Rush Clockwork Angels Tour Update: First Leg Complete - October 1st, 2012]
[Alex Lifeson Talks About Clockwork Angels Set List Changes - September 17th, 2012]
[Rush Add San Diego Date to the Clockwork Angels Tour - September 10th, 2012]
[Rush's Clockwork Angels Tour Begins - Set List Revealed LIVE - September 7th, 2012]
[Clockwork Angels Tour - Teaser Photo Gallery - September 4th, 2012]
[Rush Bringing String Ensemble on Clockwork Angels Tour - June 18th, 2012]
[Rush Add Three New European Dates - Will Perform at the Sweden Rock Festival - May 22nd, 2012]
[Rush Add Second Toronto Show - Release European Fan Pre-Sale Information - May 15th, 2012]
[Rush Announce Initial 2013 European Tour Dates - May 14th, 2012]
---