Moving Pictures 30th Anniversary Deluxe Edition Released Today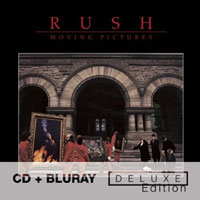 The wait is over. The re-release of Rush's seminal album Moving Pictures is here!

In connection with the release, Soundvision has posted a nice article titled Rush: The Fountain of Surround which discusses 'Rush's decade-long journey toward embracing the 5.1 format—even for catalog studio material'. Definitely worth a read (Thanks Ed from RushIsABand).

Part II of Rush: The Fountain of Surround is now online.

More on Moving Pictures 5.1:


RUSH's "Moving Pictures" celebrates its 30th anniversary this year with a spectacular "Moving Pictures - Deluxe Edition" via Mercury/UMe. The reissue of this seminal album on April 5, will be available in two formats: (1) a digitally remastered CD plus DVD and (2) a digitally remastered CD plus Blu-ray. For this Deluxe Edition, the DVD and Blu-ray discs will feature the album and three bonus music videos, "Tom Sawyer", "Limelight" and the previously unreleased clip "Vital Signs", in both a stunning 5.1 Surround Sound mix supervised by the band's Alex Lifeson using the original multi-tracks and in newly remastered stereo from the original analog master tapes.

Both DVD and Blu-ray formats will boast the 5.1 Surround Sound and stereo audio in 96kHz/24-bit high-resolution audiophile playback which offers 256 times more resolution than CD audio, providing the listener with the closest experience you can have to what the artists hear in the studio. The DVD is playable on both DVD-Audio and DVD-Video players, the latter players will include Dolby Digital 5.1 surround sound and PCM stereo playback. Blu-ray discs will also feature DTS-HD Master Audio 5.1 Surround Sound in addition to 96kHz/24-bit PCM 5.1 Surround Sound and stereo.

The "Moving Pictures" experience has never sounded better or been more moving. Also included in the package is an extensive gallery with previously unreleased photos from the original recording sessions, new liner notes by renowned music journalist David Fricke and 30th-anniversary artwork by original album designer Hugh Syme.

The DVD version of MP 5.1 is now available at all major retailers however, as reported earlier, the Blu-Ray version will only be exclusively available at Best Buy stores for the next 30 days.

Ordering links for Moving Pictures 5.1 via Amazon are below:


Moving Pictures 5.1 - CD/DVD

Moving Pictures 5.1 - CD/BD

And don't forget to enter for your chance to win one of five (well, now it's four) copies of Moving Pictures 5.1 -- Click HERE to enter.