'Moving Pictures' Track by Track: Geddy Lee Breaks It Down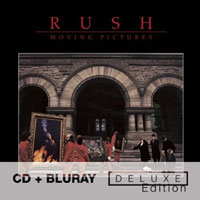 Geddy Lee was recently interviewed by John Soeder ahead of the band's concert tonight at the Quickens Loans Arena in Cleveland, Ohio -- the same show that will be filmed.

In the interview, Geddy breaks down each track of Moving Pictures.

"Moving Pictures" was "an interesting establishment of a particular kind of songwriting and a particular way we went about recording," Geddy said.

"It was the whole idea that we had moved away from the longer concept pieces and were experimenting with whether or not we could establish a sound of Rush that could take place in 6 minutes, as opposed to 20 minutes.

Check out the entire article via this LINK and read what Geddy had to say about each track.

In addition to the above article, two more articles regarding Rush and tonight's concert are also available:

For Rock Trio Rush, Cleveland is Where it All Began

After Donna Halper Gave 'Working Man' a Spin on WMMS, Rush's Career Took Off

Thanks to Ed from RushIsABand for the last two news stories.