Moving Pictures Re-Enters Billboard Top 200 Albums at #51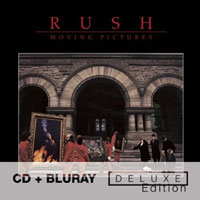 Two weeks back, the 30th Anniversary Deluxe Edition of Moving Pictures re-entered the Billboard Top 200 Chart at position #137. Then, the next week, it dropped off the list.

Well, it's back on again; this time at position #51!

According to Billboard, Moving Pictures has now been on the charts for a total of 70 weeks with two re-entries over the past three weeks.

It was originally believed that the last time MP was on the charts was several years back during the first re-release of the Rush Remastered Series however further research determined that this wasn't the case.

With the support of Rush on tour and the positive early reviews, it'll be interesting to see how much farther Moving Pictures will climb the charts. Do your part if you haven't already -- order your copy today!

Ordering links via Amazon arebelow:

Moving Pictures 5.1 - CD/DVD

Moving Pictures 5.1 - CD/BD

And don't forget to enter the Cygnus-X1.Net Moving Pictures 5.1 Giveaway Contest for your chance to win one of 5 copies of the CD/DVD Combo Pack of Moving Pictures 5.1!

Thanks to reader Michael Lynch for sharing the news on Cygnus-X1.Net's Facebook Page.