Geddy Lee Exclusive Interview on Planet Rock - May 10th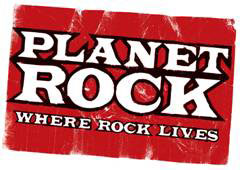 Update (05/10/2012 7:45pm EST): The interview with Geddy Lee can now be streamed at this location. Geddy's interview begins at the 41 minute mark.

---

Update (05/10/2012 10:00am EST): The Geddy Lee Interview just ended. Here are some highlights from it:

Geddy spoke about the theme behind Clockwork Angels indicating that the story line of the album centers around an "innocent" who goes out into the world with the perception that the world is a good place. He finds himself on a long road which becomes his life. Many things happen to him and the songs reflect the story of his growing up - of "his life".


Geddy stressed that while each song ties together with the overall theme of the album, it was important for each of the tracks "...to stand as individuals..."


On one of the tracks called The Wreckers, Geddy and Alex swapped instruments for the initial creation of the song. It was born from them jamming together while killing time. After they liked what they heard, they "...laid down the demo on 'wrong' instruments so-to-speak..."


Geddy confirmed that Rush would be heading to Europe in the Spring of 2013!


On the subject of a new concert CD/DVD, Geddy indicated that no discussion about filming the upcoming tour has taken place however it has become "...a regular thing for us..." and that it's "...nice to have that historical record so yea, we probably will film it at some point".

---

Planet Rock has just released the following announcement regarding an exclusive interview with Geddy Lee:

Planet Rock – Exclusive
Geddy Lee of Rush Interview

Darren Redick – 2pm Thursday 10th May

Immediate Release:

Planet Rock will have an exclusive interview with Rush bassist Geddy Lee during Darren Redick's show, Thursday 10th May 2012 from 2pm (UK time).

Geddy will be in the Planet Rock studios to talk about the band's 20th studio album, Clockwork Angels.

The new album is to be released on 11th June as a Classic Rock Fan pack and out in all good record stores from the 9th July through Roadrunner Records. This is their first album in five years and sees them reuniting with "Snakes & Arrows" co-producer Nic Raskulinecz.

As indicated above, the interview will take place on Thursday 10th May 2012 at 2pm EST (or 9am EST).

The interview will be streamed live at www.planetrock.com.
---