Rush On The Cover of the July 2012 Issue of Classic Rock Magazine - Article Now Online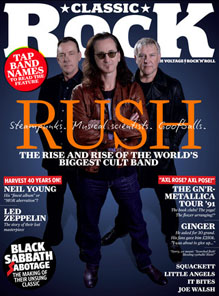 Rush appear on the cover of the July 2012 issue of Classic Rock Magazine and appear in a seven-page spread within the issue. The tagline on the cover reads:

Steampunks. Musical scientists. Goofballs.
The Rise and Rise of the World's Biggest Cult Band

The article discusses the band's reaction to the death of their photographer Andrew MacNaughtan, the process of creating Clockwork Angels and their "ascension in the public's eye":

Since 2007's Snakes & Arrows, Rush have drifted, with a reassuring lack of guile on their part, towards the mainstream. An appearance on the The Colbert Report angered some diehard Rush fans when Stephen Colbert 'accidentally' walked on set as the band were in the middle of Tom Sawyer (Lee: "Some fans were really offended by that. They've made such a bond emotionally to the music that it's hard for them to take lightly. It was funny, but to them it was sacrilege. Lighten up, would you? We're just having some fun."). Then there was a glowing revival piece in Rolling Stone, a series of sell-out tours, a cameo in Judd Apatow's I Love You Man and the acclaimed and award-winning Beyond The Lighted Stage, which have all contributed to their ascension in the public's eye.

The entire article is now online and can be read HERE.

To purchase a copy of the magazine directly from Classic Rock, please click HERE.

Thanks to reader Simon Sweetman for providing the article scans.
---