Alex Lifeson Talks Clockwork Angels Track-by-Track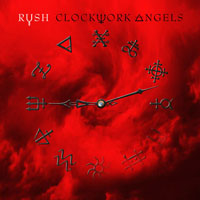 In a new MusicRadar interview, Alex Lifeson talks about Rush's upcoming Clockwork Angels album on a track-by-track basis. From Alex:

"We wanted something that was bold and stripped down," says guitarist Alex Lifeson of Rush's Clockwork Angels. "The goal was to make it real in your face and very much the sound of a three piece – a hard rock record in the classic sense. I'm happy to say that it really did come out the way we anticipated and hoped for."

With numerous reviews already surfacing about the album, many have cited the title track as one of the stand-outs on the album. Here's what Alex had to say about the third track on the album:

Clockwork Angels

"I was just messing around at home and came up with a pretty lengthy piece, and most of it's what Clockwork Angels turned out to be.

"Ged and I both like to work on a day. We don't really bring stuff in, nor do we refer to soundcheck jams any more. We're both just excited to start on something new. But I had this thing floating around, so I gave him a copy of it, and he really liked it and saw great potential in it. We rearranged it and developed some of the parts a little bit more in the verses. From there, the song just came together.

"I love the strumming in the verses; it's so energetic. And the pre-verse sections are so dreamy; they take you to another place. There's also that blues section in the middle, which comes out of nowhere, but it really emphasizes the lyric. And then it just falls back into that beautiful, climbing arpeggio. It gives me goose bumps every time.

"Near the end, there's a vocal harmony that Ged does that almost sounds like a prayer. He sang it for one of the other parts, but it got flipped around. I think Nick is responsible for that. He said, 'Hey, check this out,' and we listened to it and figured, 'Oh, we have got to have that in there.' It's really nice, especially since you don't know where it's from."

Check out the entire article/interview via this LINK.

Thanks to reader RushFanForever for passing along the news.
---
Related News Stories
[Clockwork Angels Full Album Reviewed from The Digital Fix - May 9th, 2012]
[Producer Nick Raskulinecz talks Rush's Clockwork Angels - May 8th, 2012]
[Clockwork Angels Full Album Reviewed Track by Track - May 7th, 2012]
[Rush Clockwork Angels Tracklist, Trailer and Official Announcement Now Available - April 11th, 2012]
[Headlong Flight Single from Clockwork Angels Release Update - April 4th, 2012]
[Rush Clockwork Angels Album Cover and Tour Book Artwork Revealed? - April 3rd, 2012]
[Clockwork Angels Update - First New Song Title Revealed - Headlong Flight - March 28th, 2012]
[First Single from Clockwork Angels Coming Friday, March 30th? - March 15th, 2012]
[Clockwork Angels Release Date: May 29th, 2012 - March 2nd, 2012]
[Clockwork Angels Due Out in May According to PROG Magazine - February 20th, 2012]
[It's A Wrap: Rush Finish Recording Clockwork Angels - December 20th, 2011]
[New Guitar World Interview with Alex Lifeson - Talks Clockwork Angels - December 13th, 2011]
[New Geddy Lee Interview With Billboard Magazine - Update on Clockwork Angels - December 5th, 2011]
[Geddy Lee Update on Clockwork Angels - October 29th, 2011]
[Clockwork Angels Update from Rush Producer Nick Raskulinecz - September 21st, 2011]

---