Rush Receive Governor General's Performing Arts Award - "Inner Rush" Short Film & Choir Rush Tribute Now Available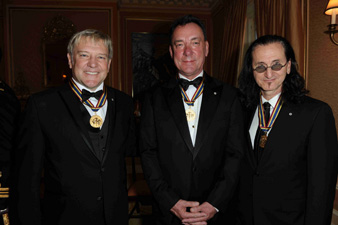 Over the weekend, Rush were awarded the Governor General's Performing Arts Award during a gala ceremony at Rideau Hall in Ottawa. From Neil Peart via the Winnipeg Press:

"We are especially appreciative for the presentation of this lifetime achievement award now - while we are still active (Too active, our families might say!)" said Rush drummer and lyricist Neil Peart in an emailed statement..."Since our performance 'lifetimes' aren't quite over yet, this high honour is not just a reward; it is an inspiration. We will continue to try to earn it."

As previously reported, all three members of Rush were on-hand for the event. The ceremony included an impressive choral tribute to Rush which can now be viewed below or directly at YouTube.

---

---

There are several photo galleries from the event which can be viewed HERE and HERE.

Additionally, a short-film called Inner Rush was created to honor the band for the event:

For the fifth consecutive year, the NFB has brought together acclaimed Canadian filmmakers and NFB producers to craft a series of short signature works honouring the recipients of Canada's most prestigious performing arts awards, presented at the Governor General's Performing Arts Awards Gala at the National Arts Centre in Ottawa on May 5, 2012. Included in this year's tributes is the film "Inner Rush":

Inner Rush celebrates the career of legendary rock trio Rush and members Geddy Lee, Alex Lifeson and Neil Peart. Recipients of the Lifetime Artistic Achievement Award, Rush have had the most consecutive gold or platinum studio albums in rock history after the Beatles and the Rolling Stones. Inner Rush is directed by Toronto-based filmmaker and cinematographer Chris Romeike and produced by Gerry Flahive.

The short-film can be viewed below or directly at this LINK.

---

---

Congratulations to Geddy, Alex and Neil for this award. The recognition of their talent, dedication to their craft and years of entertainment for fans the world over is very well deserved and earned.
---
Related News Stories
[Rush Visit Rush Visit Canada's House Of Commons - May 3rd, 2012]
[Rush Wins Governor General's Performing Arts Award Update - Rush to Perform Live on May 5th? - May 3rd, 2012]
[Rush Wins Governor General's Performing Arts Award - March 6th, 2012]

---