Clockwork Angels: The Novel Official Press Release - Neil Peart to Narrate the Audiobook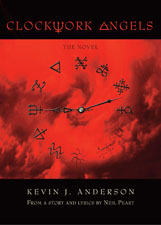 Author Kevin J. Anderson, who has penned the official novelization of Rush's Clockwork Angels concept album has just posted the official press release for the novel on his website. From the press release:

The music throughout the Clockwork Angels album—the band's 20th studio album—forms the backbone of a colorful adventure story, which is now fully realized in Clockwork Angels: The Novel (ECW Press, hardcover, September 2012). The story tells of a young man caught between the grandiose forces of order and chaos. On a quest to follow his dreams, he travels across a lavish and colorful world of steampunk and alchemy, with lost cities, pirates, anarchists, exotic carnivals, airships and steam engines, and a rigid Watchmaker who imposes precision on every aspect of daily life.

The press release also indicates that the hard-cover edition of Clockwork Angels: The Novel will contain full-color illustrations by long-time Rush artist Hugh Syme.

Additionally, the audiobook will be available from Brilliance Audio and will be narrated by Neil Peart himself.

You can pre-order the novel, which should be released in September to coincide with Rush's North American tour, via this LINK.
---
Related News Stories
[
Clockwork Angels Novel Artwork Revealed
- May 11, 2012]
[
Clockwork Angels Novel Now Available for Pre-Order
- March 19, 2012]
[
Novelization of Rush's Clockwork Angels to be Penned by Kevin J. Anderson
- February 09, 2012]
---