Rush Featured in Classic Rock Presents PROG Magazine - New Clockwork Angels Details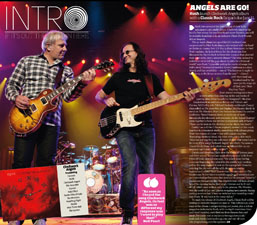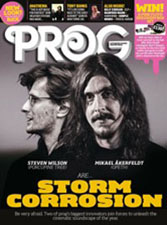 The April 2012 issue of Classic Rock Presents PROG magazine includes a one-page article featuring Rush titled Angels Are Go! which includes some new details behind the band's upcoming album Clockwork Angels.

From the article:

Peart started writing lyrics from scratch rather than drawing on his notebooks of passing ideas (what he calls his 'Scrapyard'). He drew inspiration from authors as diverse and Voltaire and Cormac McCarthy, with Michael Ondaatje and Joseph Conrad channelled on The Anarchist, and Daphne Du Maurier firmly in mind on The Wreckers. Peart also became fascinated by ancient traditions. "Soon I learned about an entire set of runic hieroglyphs for elements and processes. As the lyrical 'chapters' came together I chose one symbol to represent each of them:' These can be seen on the clockface on the sleeve.

Geddy Lee and Alex Lifeson originally worked on the music together in a basement studio, sometimes with Lifeson giving Peart two demos of a tune - one with a drum machine illustrating rhythmic ideas, the other a click-track. "Alex had put together one collection of ideas that turned out to be most of the song Clockwork Angels,' says Peart. "As soon as I heard its rhythmic feel, which was so different for us, my response was 'I want to play that!'"

Click HERE to view a scan of the article or read the transcription of it over at Power Windows.

Thanks to Mike Rosenthal for alerting us about the article and to Eric from PW for both the article scan and, of course, the transcription.
---