Alex Lifeson Talks About Clockwork Angels Set List Changes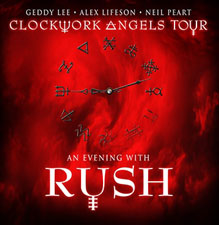 For those following along to the progression of Rush's Clockwork Angels tour, most of the conversation among fans has centered around the set list. Not so much the songs on the set list (which is a subject for an entirely different debate) but the fact that Rush has been shifting around the set list on a nightly basis. Several songs are dropped / replaced each night, and just when you think you know what the band will play when they arrive in your town, they switch it up again.

This is very atypical for the band who thrive on consistency.

In a recent interview with the Detroit Free Press, Alex Lifeson expands on the subject of the fluid set list:

QUESTION: The set list seems to still be in flux on these early tour dates, and it's definitely got fans' attention.

ANSWER: What happened is the thing that always happens -- the set was much longer than what we had to limit ourselves to. We didn't want to get rid of those songs, so we picked a Set A and a Set B, and since then we've been tweaking it a bit, playing a couple and moving them around. I mentioned to Ged the other day: It's kind of nice to arrive at a gig in the afternoon and decide which songs to switch out that night and keep it mysterious, especially now that everything is blogged and tweeted and e-mailed.

And it's been a whole set list controversy. Having a deep catalog like this makes it difficult to play enough songs that everybody wants to hear. Everybody has their favored and less favored songs. Rush fans are great at debating the merits of songs. And good at expressing their disappointment and elation. (Laughs)

We don't usually do this type of thing, so we may get back in our usual groove. I'd be an advocate for some other stuff, songs we didn't prepare perhaps.

The interview also touches upon other subjects including the inclusion of the string ensemble on the tour and the band's "broader mainstream respect" that they've been enjoying of late. You can read the entire interview via this LINK.

And for a complete list of the tour dates and the current set list for the Clockwork Angels tour, please visit the site's Tour Info page.
---
Related News Stories
[Rush Add San Diego Date to the Clockwork Angels Tour - September 10th, 2012]
[Rush's Clockwork Angels Tour Begins - Set List Revealed LIVE - September 7th, 2012]
[Clockwork Angels Tour - Teaser Photo Gallery - September 4th, 2012]
[Rush Bringing String Ensemble on Clockwork Angels Tour - June 18th, 2012]
[Rush Add Three New European Dates - Will Perform at the Sweden Rock Festival - May 22nd, 2012]
[Rush Add Second Toronto Show - Release European Fan Pre-Sale Information - May 15th, 2012]
[Rush Announce Initial 2013 European Tour Dates - May 14th, 2012]
[Rush Announces Clockwork Angels Tour Pre-Sale Details - Begins April 23rd - April 21st, 2012]
[Rush Clockwork Angels Concert Pre-Sale Information Now Available - April 19th, 2012]
[Rush Release Official Clockwork Angels Tour Information and Dates - April 19th, 2012]
[Clockwork Angels Tour Dates Begin to Surface - April 18th, 2012]

---