Clockwork Angels Charting Update - Week #12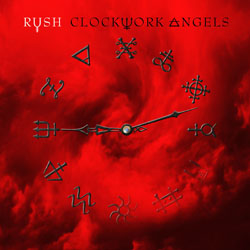 In the twelfth week after its release, Clockwork Angels moved back up in Billboard's Top 200 Album List, creeping up to position #117 from #121 the week before.

The move up was no doubt related to the excitement surrounding the launch of the world tour that begins tomorrow. The release of the novelization of Clockwork Angels may have also played in increased album sales. While the album moved up in the Top 200 list, it actually fell down a few spots in otherBillboard Charts:

Top 200 Albums: #117 - up 4 spots from last week.
Top Rock Albums: #38 -- down 3 spots from last week.

Top Hard Rock Albums: #8 -- down 3 spots from last week.


Haven't purchased your copy of Clockwork Angels yet? If so, you can do so HERE.



---
Related News Stories
[Clockwork Angels Charting Update - Week #11 - August 30th, 2012]
[Clockwork Angels Charting Update - Week #9 - August 16th, 2012]
[Clockwork Angels Charting Update - Week #8 - Huge Jump Up! - August 9th, 2012]
[Clockwork Angels Charting Update - Week #7 - August 2nd, 2012]
[Clockwork Angels Charting Update - Week #6 - July 26th, 2012]
[Clockwork Angels Charting Update - Week #5 - July 19th, 2012]
[Clockwork Angels Charting Update - Week #4 - July 12th, 2012]
[Clockwork Angels Charting Update - Week #3 - July 5th, 2012]
[Clockwork Angels Charting Update - Week #2 - June 27th, 2012]
[Rush's Clockwork Angels Debuts at #2 on the Billboard Top 200 Album Chart - June 20th, 2012]
[Rush Release Clockwork Angels - To Rave Reviews - June 12th, 2012]
[Producer Nick Raskulinecz on Rush's Clockwork Angels - June 11th, 2012]
[Clockwork Angels Lyrics and Liner Notes and Album Artwork - oh my! - June 6th, 2012]
[New Audio Samples From Clockwork Angels Now Available - June 3rd, 2012]
[Inside Rush: Clockwork Angels Radio Special - June 2nd, 2012]
[Clockwork Angels Track Audio Samples Now Online - May 31st, 2012]
[Clockwork Angels Full Album Reviewed from The Digital Fix - May 9th, 2012]
[Producer Nick Raskulinecz talks Rush's Clockwork Angels - May 8th, 2012]
[Clockwork Angels Full Album Reviewed Track by Track - May 7th, 2012]
[Rush Clockwork Angels Tracklist, Trailer and Official Announcement Now Available - April 11th, 2012]
[Headlong Flight Single from Clockwork Angels Release Update - April 4th, 2012]
[Rush Clockwork Angels Album Cover and Tour Book Artwork Revealed? - April 3rd, 2012]
[Clockwork Angels Update - First New Song Title Revealed - Headlong Flight - March 28th, 2012]
[First Single from Clockwork Angels Coming Friday, March 30th? - March 15th, 2012]
[Clockwork Angels Release Date: May 29th, 2012 - March 2nd, 2012]
[Clockwork Angels Due Out in May According to PROG Magazine - February 20th, 2012]
[It's A Wrap: Rush Finish Recording Clockwork Angels - December 20th, 2011]
[New Guitar World Interview with Alex Lifeson - Talks Clockwork Angels - December 13th, 2011]
[New Geddy Lee Interview With Billboard Magazine - Update on Clockwork Angels - December 5th, 2011]
[Geddy Lee Update on Clockwork Angels - October 29th, 2011]
[Clockwork Angels Update from Rush Producer Nick Raskulinecz - September 21st, 2011]

---